outdoor decor
Best Garden Planters for Small Spaces
Corner spaces just don't get the attention it deserves sometimes, and if you're concerned with optimizing space in a limited environment, growing a garden might seem like an impossible, or at least improbable, task. Whether your small available space is a balcony, porch, or at most a limited backyard, chances are you have a wall area that you can turn into a beautiful, well-designed garden for flowers, herbs, or vegetables that will not only brighten your living area but provide convenient and cheap food when you want something homegrown.
First, let's take a look at some sturdy, well-designed outdoor compact garden systems, then we'll dig into what flowers, herbs, and plants would work best in such an arrangement.
Making Space Where There is None
The Small Geo Planters comes in four sets, each square pot measures 8 inches length and 5.5" in height, these planters allow you to extend and expand your available planting space seamlessly. They also allow for a modern feel to your garden or house wherever you decide to put them. The planters are made from lightweight fiber cement that mimics the appearance and texture of cast stone without the heft and weight that comes with it.
Functionally, they are UV and frost resistant and come with pre-drilled drainage holes so you don't have to worry about modifying the pieces once you receive them. They also help conserve the environment since these compact and space-saving planters are sourced from eco-friendly fiber cement, these materials makes them very durable and 25% less heavy than the traditional cast stones. 
If that's a bit too small and you're looking for something a bit more demure (if a solidly built planter set can be considered such), the Large Bois Garden Bench shares the lightweight fiber cement construction quality, placed in a sturdy metal frame that holds one large and two half-size planters for easy access to taller plants that might not fit in these compact systems. 
As promised, the Bench Set comes with pre-drilled holes for drainage, superior craftsmanship, and an industrial style that doesn't take away from the beautiful plants you're planning on growing. The Bench Set as a whole measure about 34"L x 15.75"W x 38.5"H and weighs 111 pounds total.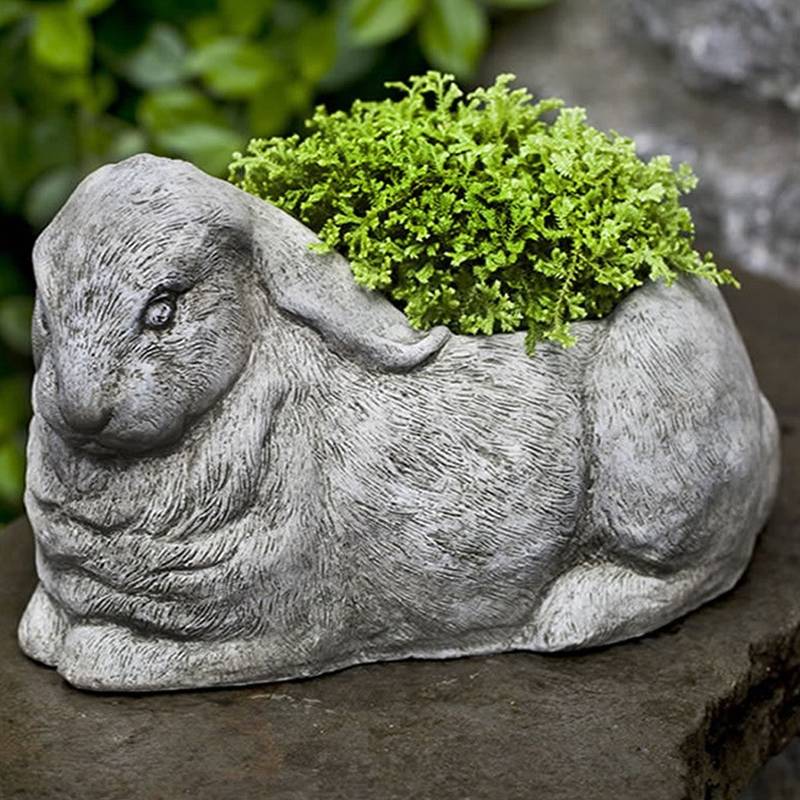 Deciding Which Greenery to Grow
Step one is going to be choosing your plants. Because different plants require different types of soil, sun exposure, and watering frequency, you'll want to arrange them appropriately. Now, the capacity of the Garden Anywhere systems will limit you in some manner, depending on which system you choose, but when it comes to plants for a limited space garden, you still have a great deal of freedom.

Flowers will bring a gorgeous burst of color to your balcony or porch, and depending on what you decide on, the scent of newly blooming flowers can make a world of difference to your mental and emotional state. Petunias are an excellent go-to for beginning gardeners. Blooming in a large variety of beautiful species, they tend to climb and hang over their planting space, helping you create a living wall of color. 
Most species of petunia thrive in full sun, though if it's getting really toasty out there, the partial shade can ensure their survival in the hottest areas. As annuals, you should expect to replace them every so often, though there are some species that are classified as perennials.  Pure foliage plants are another great option, and many will provide that cascading effect as they grow into their planters. 
If you're sitting pretty with full sun and a hot climate, Silver Falls Dichondra is a drought-resistant, hardy plant with beautiful, spidery silver leaves that thrive in well-drained soil. Once established, it can require weekly watering (more in extreme heat), and recovers quickly after a heatwave. If you're working with more shade than you know what to do with, consider the Boston fern, a beautiful plant with a predilection for cool space, high humidity, and full to partial shade. 
By a quick daily soil check, make sure the soil is always damp, and if a dry wave hits, mist the plant to make sure it gets the humidity it needs. You'll easily be able to tell if it's too dry as the leaves will turn a telling yellow.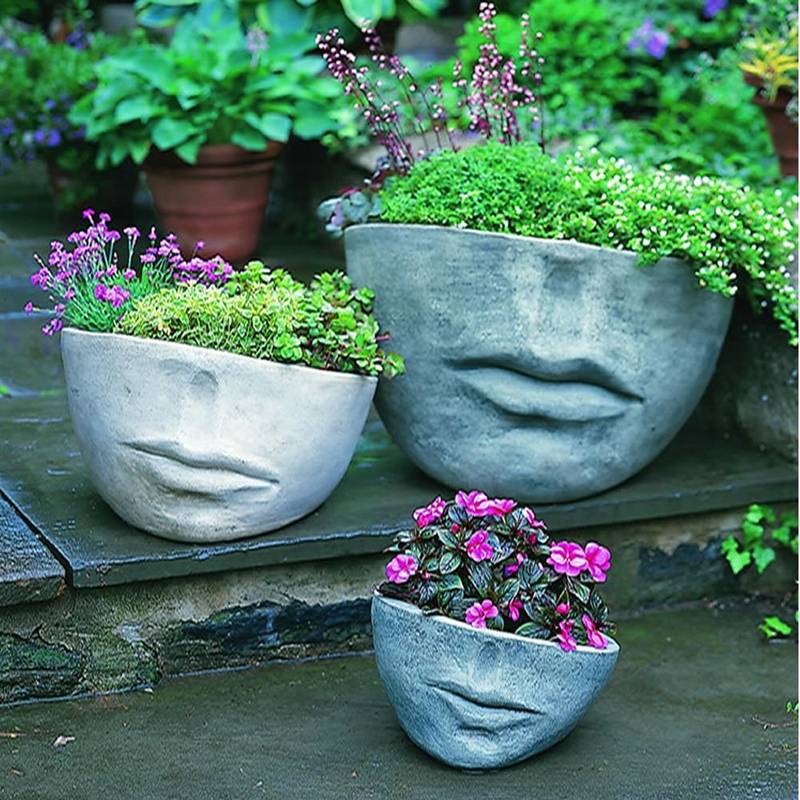 Delicious Herbal Goodness
Herbs are one of the top choices for a small, personal-sized garden because it puts some of the most essential cooking supplies right at hand. Many herbs will also smell fantastic, and right next to a window, you can enjoy a refreshing burst whenever the breeze blows just right. 
One of the top herbs for smaller planters is oregano. Oregano is a bit slower to grow than many others, but it's a compact spreader, filling and establishing itself firmly in its planter. It grows best in full sun, thrives in poorer soil, and requires good drainage. It's fairly heat resistant as well.
Lemon balm is an herb that produces a citrusy, minty scent when touched, and grows well in shade. When exposed to a good deal of light, it tends to get "leggy," but it responds well when cut back, growing in twice as thick. The leaves are excellent for teas, fruits, salads, even fish preparation.
Would you believe that spinach is actually a strong contender for top dog among vertical vegetable gardening ideas? Preferring full sun and cooler temperatures, spinach grows quickly in fertile soil and should be planted in early spring after the frost, or if you're in a frost-free region, it can thrive well in the winter. 
If you're in a hotter region, consider chili plants! These vegetables grow happily in hot and sun-filled conditions as long as they are well-drained. Chili plants come in a wide variety of species and will tend to drape and spread, giving you the benefit of coverage and food production.

Got a Black Thumb? No Worries!
If you tend to have trouble growing plants, consider succulents. A species like Sempervivum are made to thrive in hostile climes and because it's such a cute little plant, it will spread and establish itself in a compact space planter quite well. Sedum works hard as well and comes in a large variety of species, so you can get the bits of color you want without a need for excessive care.
As always, investigate and research your planting choices before choosing what you're going to grow. Your local garden center can help you find exactly what you need to fit your needs and desires. Good luck and happy growing!
Best Eagle Statue and Decors for your Patriotic Home
Independence Day is a holiday meant for fellowship and fun, giving everyone an excuse to spend time with friends and family over the barbecue overflowing with steaks, burgers, and hot dogs. Patriotism and love of country don't stop when the fireworks flicker away into a starry sky. The bald eagle has been featured as a symbol of the United States of America since 1782, a beloved avian symbol of freedom, strength, and survival. Bald eagles can fly as high as 10,000 feet and dive as fast as 99 miles per hour, and were at desperate risk of becoming extinct, starting in the 1950s. Thankfully, the government featured preservation efforts and the banning of certain chemicals in 1972 was able to rejuvenate the population and they are no longer considered in danger.
This majestic eagle doesn't need to just be a seasonal decoration. What animal embodies the freedom and majesty America represents? Its grace and presence can bring those same elements to your home, whether you're a bit more space-conscious and prefer a canvas approach or looking for outdoor bronze eagle statues to become a new centerpiece in your backyard. Whichever living style and size you embrace, wow your visitors with a beautifully crafted art piece that brings the beloved symbol home.
Space-sensitive? Turn your garden into your own outdoor art gallery with Brass Baron Eagle depicting our nation's symbol doing what it does best: hunting with its majestic wingspan widely spread in the air. Place the eagle statue in your Patio, Porch, or Doorstep, this heroic piece of brand will surely give that patriotic vibe. This statuette of an eagle can revamp an old boring fence and shed has had quite an impression on visitors, garnering both compliments and curiosity, so there's no lack of conversation starters here. 
Henri Studio's statue of eagle or this intricately detailed Brass Baron Eagle Outdoor Statue is crafted using the traditional, lost-wax method and hand cast in a premium solid bronze-brass alloy, making these eagle statues to be suitable for year-round outdoor use, it can stand the warmest summer and coldest winter so you don't have to worry about replacing the eagle statuette after another year-round of use. Bird statues like this one not only bring a feeling of patriotism to your yard, but also a more natural atmosphere.
This brand of an eagle can be featured as a magnificent piece of art, you can shop these eagle statues in the collection. Search for the best eagle statues and we got you covered. All of our items and brand can last for a very long time especially when kept and maintained well. Aside from the affordable price range, these items can really accentuate your indoor and outdoor spaces. Don't worry about putting it outside your home, backyard or garden, this item can definitely stand extreme weather!
If you are attracted to the grand feel of the high-class society, then definitely take a look at the eagle sculpture. Have you ever wondered why lions guard buildings and homes of great importance? The Library Lions, Patience and Fortitude, have stood in front of the Beaux-Arts building in Manhattan since 1911 and are considered to be some of the most iconic statuary in the city.
Take that tradition into your own hands by charging a pair of beautifully crafted, eagles statues to protect your home and flank the entrance, greeting all visitors with their noble bearing. This is the perfect piece of sculpture to sit at the entrance, garden, or left into your home as guardian of the household.
Stone is attractive and fits a classically designed, high-society aesthetic, but the timeless green patina of bronze evokes a whole different era of historical beauty. Detailed with the utmost in care and hand-antiqued, the Freedom Eagle Bronze Eagle Sculpture is cast using the traditional, lost-wax method.
This means that first, a wax eagle sculpture is made, encased in a mould, after which the original wax design is melted away and the left or remaining void is filled with a solid bronze-brass alloy, ensuring that this outdoor bronze eagle sculpture will last through year-round outdoor use.
The American details of these eagle statues cal really accentuate your indoor and garden space. The statue itself is 36"H x 28"W of painstaking accuracy, down to the most particular details. With wings stretched up to the sky, this top American bald eagle statue can greet visitors whether you're sharing the Fourth of July or any other time of year, top holidays, or just because!
 
Last but not least, let's talk more about the sort of traditional lost-wax method of casting metal. This approach to design allows sculptors to add incredible amounts of items and detail to lasting, timeless metal and when it comes to outdoor eagle statues, that level of attention really pops and grabs the attention of all who see it.
A more demure approach than the Freedom Eagle before, the Eagle on Crested Waters Outdoor Bronze Statue stands a mere 10" tall, but demands no fewer attention thanks to its exquisite colour and antiquing. If you're in search of beauty inaccuracy, but seek a whole new dimension to the traditional sculpture, this is going to be a great gift to yourself. This can be featured in your garden or indoor space, it will still be a great choice for year-round use. These hand-crafted statues are most the search eagle statues because of their premium quality. As featured in this article, this eagle statue will bring the majesty and strength of the bald eagle to your backyard in a way only a few other sculptures could.
The American eagle statues are sort of more than a symbol of freedom, it is an icon of perseverance and survival. Stunning to see in the wild, you can bring that sense of awe and beauty into your own backyard in an elegant manner with a new take on outdoor canvas art or traditional, timeless statuary in both stone and bronze.
Don't worry, you don't need to build an eyrie to invite the American eagle statues into your home year-round. Did you know that eyries have been known to weigh up to a ton? Thankfully, you can enjoy their awe-inspiring presence for quite a bit less than that. Celebrate your Independence Day by inaugurating your own newest piece of yard art!
We hope that the eagle statues we featured in this article will help you narrow down your search on the best eagle statues in the market. When you do decide what statue to get, make sure to compliment it with a variety of statues, whether from our Farm section, or check out our page on 25 Dog Statues That You're Bound to Love. If you're in search of the best eagle states then check our affordable price that can definitely fit anyone's budget. If you are still in search for more options just check our collection of Statuary we also offer variety Fountains, Statuary, Planters and Birdbath. Search for other items in our page, shop today and enjoy free shipping and no sales tax on all Eagle Statuaries!