6 Best Large Buddha Head Fountains | Outdoor Garden Fountains
6 Best Large Buddha Head Fountains
There are many ways you can add style and a relaxing vibe to your property. You can create lovely pathways through lush gardens or add a private outdoor seating area to your backyard. If you want an outdoor home decor piece that offers stylish components and a natural element, add large Buddha fountains to the landscape.
When you add a decorative large Buddha fountain to your back patio or poolside deck, you create a relaxing ambience for you, your family members, and your friends to enjoy. Not only do these water features produce calming sounds due to the flowing water but they also look nice in your outdoor setting. Some Buddha fountains even have LED lights. There are many options available with each Buddha head statue.
Large Buddha fountains come in many different styles, finishes, and materials. You can choose a classic sitting Buddha fountain or a meditating Buddha that's more ornate in design. Also, for finish styles, you can choose a faux stone finish or a natural stone color. You can even choose to have color streaks added to the Buddha's head statue. Basically, you can pick the Buddha head fountain that goes with your outside decor.
These eye-catching fountains are often quite large in size with heavy construction. Therefore, you want to find a spot where they'll fit perfectly and you won't want to move them once they're in place. Buddha statues are often made of cast stone concrete although you may find lightweight resin construction fountains. Some fountains are made for indoor or outdoor use, so you'll want to consider this factor when choosing a Buddha water feature.
Some large Buddha fountains come with all the necessary parts. However, other times, you'll have to buy extra equipment. For example, if you want people to see your fountain at night, you may need LED lights.
Bring peace and serenity to your backyard or side gardens by adding a large Buddha fountain to the scenery.
If you're ready to explore the large Buddha fountain options, here are six products to consider:
Buddha Head Outdoor Fountain - Large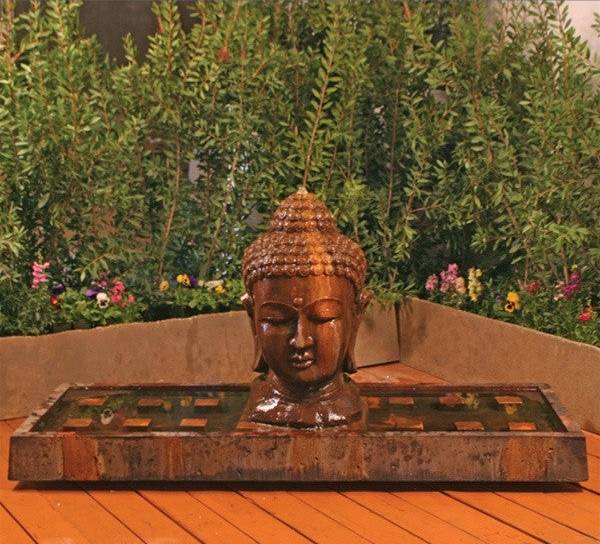 The exquisite Buddha Head Outdoor Fountain - Large will look extraordinary in the corner of your poolside deck. This eye-catching conversation piece is 75"W x 29"D x 38"H and weighs 522 lbs. You can choose your favorite color finish to ensure the water feature fits well with your current outdoor furniture and additional decor.
In addition, you can choose to have streaks added to the fountain's finish to create a unique look altogether. The large fountain is made of glass fiber reinforced concrete and is designed to weather the elements. Before you buy this particular fountain, survey your outdoor space to see where this waterfall feature would look best.

Meditation Buddha Fountain - Tall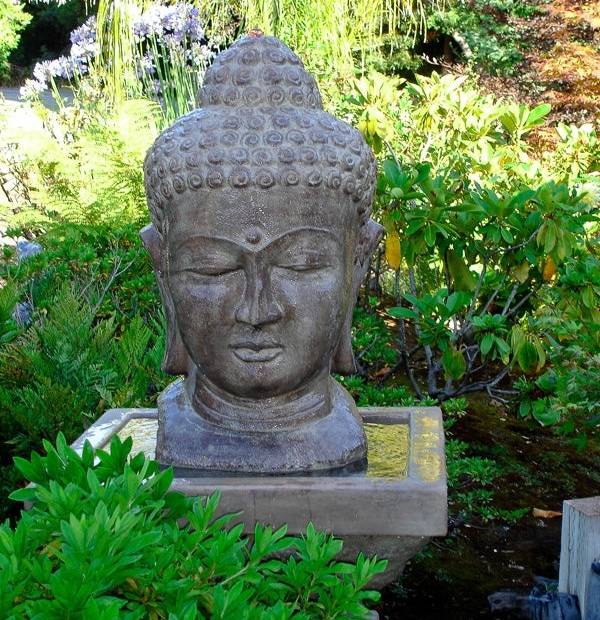 The calming Meditation Buddha Fountain - Tall is an ideal water feature for your outdoor space where a tall decor piece is needed. This Buddha fountain is perched upon a pedestal base and raised high for all to see. You can select your favorite color finish for your 68"H x 28"W x 17" square base fountain and add this flowing water feature to your backyard patio or garden area. The fiber-reinforced cast stone concrete is a high-quality material. Therefore, this fountain will likely stand the test of time and provide you with many years of enjoyment.

Meditation Buddha Fountain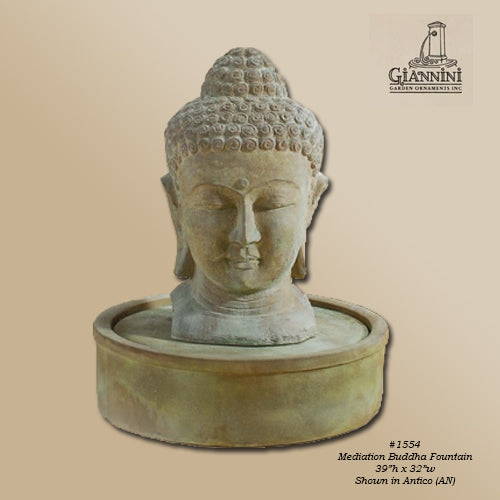 The Meditation Buddha Fountain brings a soothing environment to your backyard gardens. You can add this beautiful 39"H x 32"W cast stone fountain to your pool deck or back patio to add a calming vibe to the chosen area. The Buddha statue is perched upon a sturdy round base. Select your favorite color finish from the list of options and add this water fountain to your landscape. Best of all, you don't need plumbing access to put the flowing water into motion. The fountain features a recirculating electric pump that makes operating this water feature easy as can be.

Buddha Head Garden Water Fountain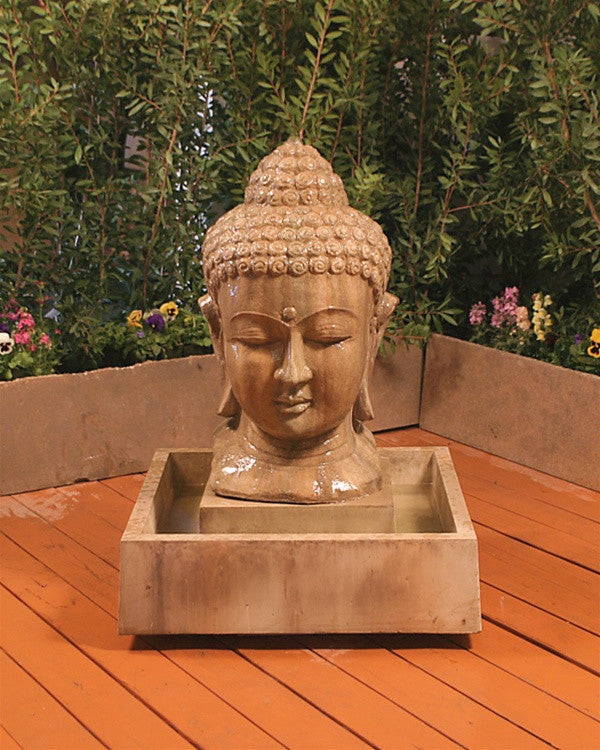 With the contemporary style Buddha Head Garden Water Fountain, adding sophistication to your outdoor yard area is a goal that's easy to achieve. Place this water fountain with square base in a spot where everyone can see it and indulge in its calming vibe and beautiful aesthetics. The large Buddha water fountain is 40"H x 32"W x 32"D and weighs 370 lbs. You can choose from a wide array of color options and select the finished product that meets your design needs. As an added bonus, you can choose to add streaks to the color finish to give it an extra unique look.

Buddha Garden Water Fountain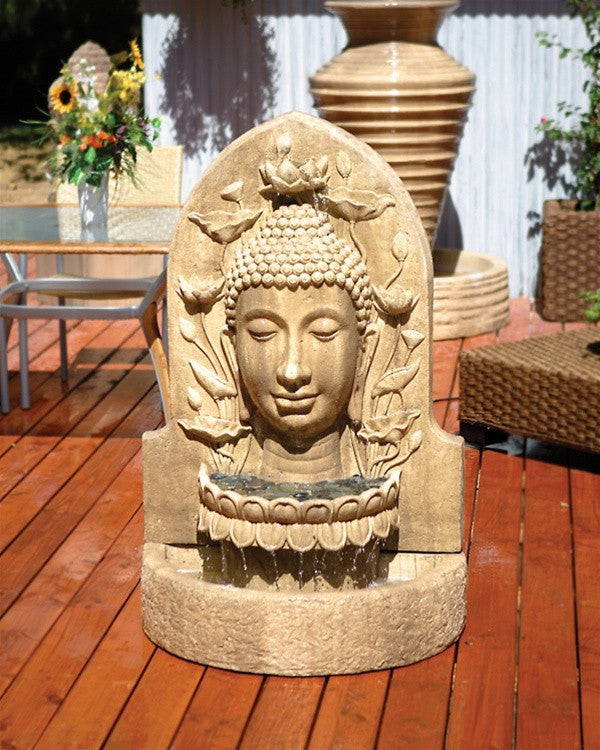 The unique Buddha Garden Water Fountain has so many lovely features, it's difficult to tell which feature stands out the most. From the elegant Buddha design to the floral motif throughout the water fountain, this water feature has it all! The 50"H x 31"W x 17"D large Buddha fountain weighs 244 lbs. and will look sensational in a wide array of locations, such as your pool deck, side yard gardens, front door entryway, and other outdoor spots. Review the available color finish options and pick the one that you feel will look perfect in your outdoor space. The glass fiber reinforced concrete fountain has a flat back to it so you can even place this fountain against an exterior wall so all can see it.

Antique Quan Yin Buddha Outdoor Fountain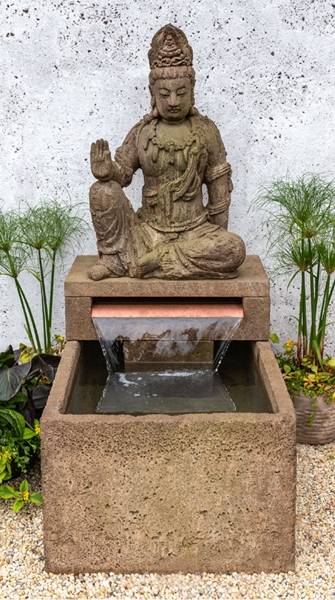 The Antique Quan Yin Buddha Outdoor Fountain is a welcome addition to your yard or patio. The 25″W x 36″L x 54.5″H fiber reinforced cast stone concrete fountain weighs 760 lbs. so it's not lightweight. But, it will stay exactly where you put it, which is a good feature. You can pick your favorite color finish from a wide array of options and ensure your new fountain looks perfect with your decor already in place.
No plumbing is necessary with this large Buddha fountain. Simply plug the fountain in and it's ready to go. And when you're ready to put your fountain in motion, the recirculating water pump will continually push water through the fountain for a continual flow. Just make sure you add enough water. You can sit back, relax, and enjoy the scenery your new large Buddha fountain provides.
Find Your Best Large Buddha Fountain Today
Are you ready to add a relaxing home decor piece to your outdoor landscape? Then now's the time to start shopping the impressive selection of large Buddha fountains. You can find a fountain that has the right dimensions and is a stylish addition to your outdoor space. With all these water fountains listed above, you have sturdy construction, unique designs, and a wide array of color choices.
As you start your search for one or more large Buddha fountains, consider the following questions:
Where will the fountain go in your outdoor area?




What color finishes are you interested in for fountains?

Does your fountain have an LED light?

How large of an outdoor waterfall fountain do you need?

What features do you want your water feature to include?

What is your budget for a new large Buddha water fountain?

Will you have help setting the fountain up in your backyard?
When you think about the previously mentioned questions, you can focus on the right type of large Buddha water fountain to add to your home. Before you buy a meditating Buddha or Buddha head statue, determine what the fountain includes so you know if you have to buy any extra parts.
You can add one or more large water fountains to your outdoor area and give your property a calming, stylish vibe.
Find the perfect large Buddha water fountain today!