Enhance Your Outdoor Space with a Square Planter Box
Enhance Your Outdoor Space with a Square Planter Box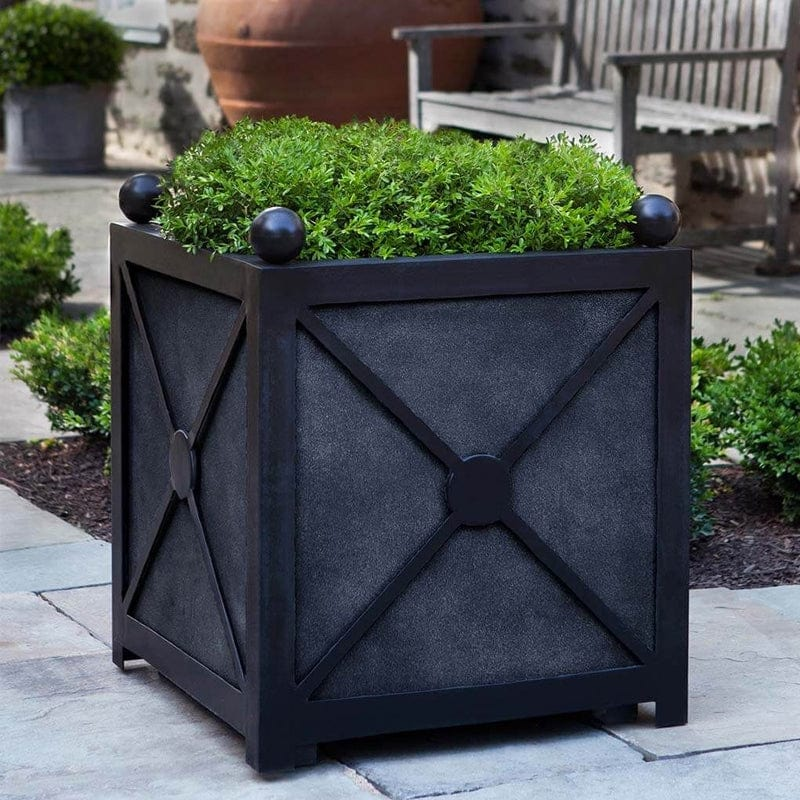 Have you been looking for ways to add a unique, modern touch to your outdoor space? Look no further than the square planter box! Not only is this versatile piece of furniture a great way to bring a touch of style to your garden, but it also allows you to grow a variety of plants and flowers. With the right type of box, you can make the most of your outdoor space and create a beautiful, comfortable atmosphere to enjoy. Read on to learn more about how a square planter box can enhance your outdoor space!
The Oxford Square Planter is a modern and chic decor piece perfect for any outdoor space. Crafted from lightweight polyethylene that mimics the look of real wood, these planters are designed to last. The color options make it easy to choose one to match your outdoor aesthetic. This planter also comes with an internal removable lining for easy cleaning and water management, as well as drainage holes on each side. With its square shape and contemporary design, this planter adds sophistication to any setting or landscape. Whether you use it as a focal point or just accent it in the corner of your patio, the Oxford Square Planter is a great addition for your outdoor area.
The Box Hill Square Planter from Outdoor Art Pros is perfect for adding a touch of charm to your outdoor space. This stylish planter features an intricate raised design, giving it a modern look that will bring character and beauty to any garden or patio. Constructed from durable polystone material, this planter guarantees increased longevity and strength without compromising on style. It's also UV-resistant and frost-proof, making it suitable for any climate. The sleek square shape ensures that the Box Hill Square Planter can fit into any space while offering optimal root depth so you can properly grow your plants with ease. Add a touch of class to your outdoor areas with this stunning planter today!
Our Arabesque Square Garden Planter is the perfect addition to any outdoor space. This handcrafted planter features a unique, ornamental latticework design on all four sides, providing an interesting and eye-catching feature in your garden. Crafted from durable resin material, this lightweight planter is built to last even under extreme weather conditions and won't require maintenance or upkeep; it's also UV protected for added longevity. Each corner of the planter has drain holes with plastic plugs as well as an optional drainage plug for excess water. The interior has a matte finish that perfectly displays green plants and flowers, giving you a low-maintenance but vibrant border around your garden or walkway!
Our Square Villandry Planter Lite is the perfect way to bring life and beauty to your outdoor space. Made with lightweight yet durable material, our planter is designed with a classic square shape that gives it an elegant, timeless look. It's perfect for bringing your favorite flowers or plants to life in any garden setting! The medium size gives you plenty of room for larger plants or cluster arrangements, while the lighter weight ensures easy portability and setup. For added convenience, the planter comes with a removable mesh liner for hassle-free planting and replacement when needed. Add this modern piece to your outdoor décor today for long lasting style and function!
Our Laguna Square Planter Set of 3 is the perfect way to spruce up your outdoor living space. This set includes three different sized planters made with a unique material blend that makes them lightweight and durable, so you can move them around easily. The beautiful textured pattern gives the planters a modern look that will fit any type of decor, while the wide rim allows for plenty of soil and other materials, making your plants thrive. Each planter has an inner reservoir that helps keep excess water at bay. Choose from an array of vibrant colors to match your outdoor landscaping needs!
The Square Villandry Large Planter from Outdoor Art Pros provides a contemporary look to any outdoor space. Crafted out of powder-coated aluminum and zinc, this planter is both elegant and durable for a lasting addition to your outdoor area. With its square design and oak accents, it will add visual interest and modern flair to any garden or patio. This planter comes with an included reservoir beneath the planter to ensure that excess water drains away from planting areas while also helping promote healthy plant growth. Perfect for use indoors or outdoors, this stylish planter is sure to make a statement in any home or business!
The Cumberland Medium Square Lead Lite Planter is the perfect way to display your favorite plants, flowers, and succulents. This planter features a classic design in a medium size for versatility in any outdoor space. It is made from durable materials that are both weather-resistant and corrosion-resistant for lasting beauty throughout the seasons. The built-in lights will cast an inviting glow at night adding a touch of ambiance to your outdoor decor. Pair with other colorful accents to complete the look and create a tranquil atmosphere in your garden or patio.
A square planter box is a great way to add a unique touch to any outdoor space. They are stylish, durable, and easy to install. They also come in a variety of sizes, materials, and colors, so you can find the perfect one for your needs. Whether you want to create a raised bed for a vegetable garden, an attractive flower bed, or just want to add a touch of beauty to your outdoor area, a square planter box is a great choice. With its versatility and beauty, a square planter box is sure to enhance the look of any outdoor space.
Celebrating the Impact of Square Planter Boxes
Square planter boxes have emerged as versatile tools for transforming outdoor spaces into vibrant, harmonious sanctuaries. Their impact goes beyond mere functionality, as they seamlessly blend aesthetics with nature. These sleek structures serve as creative canvases, allowing gardening enthusiasts to curate personalized landscapes.

The geometric symmetry of square planter boxes exudes a modern elegance that complements a variety of design themes, from urban chic to rustic charm. They provide a platform to experiment with plant compositions, enabling a symphony of colors, textures, and heights that captivate the eye. Whether gracing a balcony, terrace, or garden, these boxes elevate the allure of any area they adorn.

Not only do square planter boxes enhance curb appeal, but they also offer a therapeutic connection to nature. Their presence encourages mindful gardening, creating an oasis of tranquility amid the hustle of modern life. With the ability to adapt to diverse environments and styles, square planter boxes stand as miniature testaments to the power of harmonizing the human touch with the beauty of the outdoors.