6 Ways to Make Your Backyard More Modern
6 Ways to Make Your Backyard More Modern
There are many ways to modernize your property. Some homeowners add new features to their house while others focus on the exterior portion of their property. If you are interested in sprucing up your outdoor space and crave a modern backyard, rest assured you can achieve this goal.
Sometimes it's a single small addition, such as adding a birdbath, that gives your property an up-to-the-minute look. Other times, the fixing up may take a bit more time and property additions. And your budget may also determine what you're able to do with your land. But, regardless of how much you have to spend, you can take various steps to turn your outdated backyard into an architectural conversation piece.
Before you get started buying new items for your outdoor space, consider the following factors:
Type of improvements you want to pursue

Budget

Style

Partial or full renovation

Timeframe

DIY or plan to hire a professional
When you consider these factors, you can zone in on the types of improvements you want to make to result in a modern backyard design.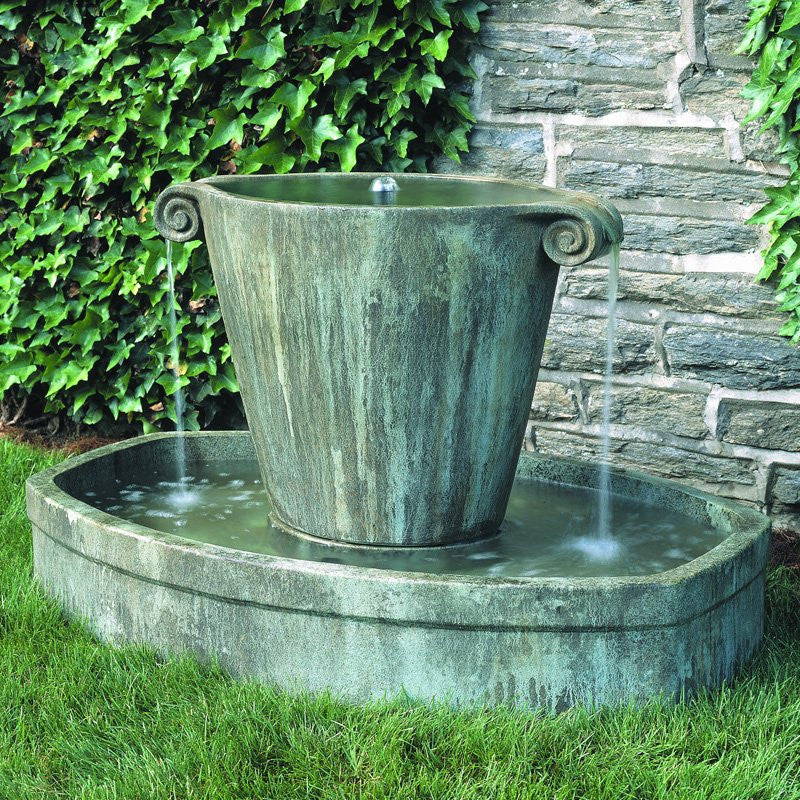 6 Easy Ways to Modernize Your Backyard
Now's the perfect time to turn your backyard into a contemporary masterpiece with modern backyard ideas. Here are six easy ways to modernize your backyard:
Fountains are a welcome focal point, no matter where you put them in your yard. You can place a large multi-tiered fountain in the center of a majestic circular driveway or add a small square fountain to your backyard space. Fountain features are ideal for creating a beautiful vision in your landscape and also for the soothing water flow sounds they produce.
Here are some spots to add a fountain on your property:
Garden grounds
Swimming pool patio
In the middle of landscaping
Wooden deck
Front door space
Back deck
Courtyard sitting area
Next to fire pits
Center of your lawn
Basically, you have a lot of options when it comes to adding a fountain to your home and trying to create a modern visual. Make sure you put the fountain in a spot that sees a lot of foot traffic. This water feature is sure to get a lot of visual interest in its fresh air location.
As you start the search for your new fountain, here are some factors to keep in mind so you can pick the right fountain for home improvement:
Best of all, a fountain provides an easy way to turn an outdated landscape into a modern vision.
As you embark on the journey to make your property more modern with a fountain, here are some aspects to explore:
Fountains come in many different styles. You can choose an urn style fountain or opt for a glass outdoor fountain. Here are some of the top fountain styles to peruse:
Angel fountain
Animal water fountain
Asian outdoor fountain
Birdbath fountain
Cast stone fountain
Corner outdoor fountain
Fire fountain
Garden fountain
Glass outdoor fountain
Large outdoor fountain
Modern outdoor fountain
Tiered fountain
Outdoor fountain with pool
People outdoor fountains
Solar outdoor fountains
Sphere outdoor fountains
Wall fountains
Waterfall fountains
Urn outdoor fountains
The type of fountain you choose will often depend on your individual tastes, space you have available, your budget, and current exterior decor.
Outdoor fountains also come in a wide array of sizes. This is a good thing as you might not have too much space available to accommodate too large a fountain. Also, you may just want a small fountain that looks nice and fits in your garden. From small, one stream fountains to multi-tiered outdoor water features, the options are definitely there.

Fountains are made from a variety of materials. Some fountains are concrete while others have a metal construction. The material often depends on the type of fountain it is. For example, a glass fountain may have a glass and metal construction while a statue fountain with basin might have a cast stone construction.

The cost of the outdoor water fountain will also vary. You can buy a budget friendly fountain and add a contemporary look to your home without spending a fortune. However, if you have the money in your budget to spend, you can find a more expensive fountain that may have all the extra features to make it really shine. The good news is that no matter what your budget may be, you'll likely be able to find a fountain that falls within it.
When you add an outdoor fountain to your property, you are taking an easy and worthwhile step to adding a modern touch to your landscape.
Another way to add a contemporary, updated vibe to your property is with a birdbath addition. Birdbaths are ideal spots for birds to bathe and play, but they also add a welcoming feature to your landscape.
As you consider different birdbaths for your property, keep the following questions in mind:
Where will I put the birdbath?
What style of birdbath should I choose?
Does the material matter when I choose a birdbath?
How much can I spend on a birdbath?
Do I want a large or small birdbath?
When you contemplate these various questions, you can pick a birdbath that is right for your property. Here are some considerations to keep in mind as you shop around for a new outdoor birdbath:

The location where you'll place the birdbath is a primary concern. You want to put the birdbath in a spot where birds will find it but it won't be too sunny so the water stays nice and cool. With this in mind, walk around your property to see what spots may be suitable for a new birdbath. You should do this before you start shopping for the item so you pick the right birdbath for the desired location.

Birdbaths come in many different styles. You can choose a basic style birdbath if you want the item to blend in to the scenery or opt for a birdbath that's more ornate in design. These bird splash areas also come in single-tier and multi-tier styles and you can choose a birdbath with fountains or one without.
Here are some main styles of birdbaths:
Birdbath fountains

Modern birdbaths

Concrete birdbaths

Bowl birdbaths
Each birdbath has its own unique features. You might start shopping for a birdbath fountain but then discover a bowl birdbath that speaks to you instead. The best way to choose a birdbath style is to shop around and see what catches your eye.

Bird baths are built with a variety of materials. Some materials are sturdier than others might be. Therefore, you should consider where you'll put your birdbath to see if it will weather the elements in the best way.
Many birdbaths are constructed using a fiber reinforced cast stone concrete. This material often weathers naturally and will stand the test of time when it comes to being out in the elements. Cast stone concrete can also have different finishes applied to it, so you can choose from different colors for your final product.
The cost of your new birdbath will depend on various factors, including size, material, intricate details, and more. If you're buying on a budget, don't worry, because you'll be able to find birdbaths in various price ranges. Therefore, you can find a budget friendly option.

In addition to a variety of price ranges, birdbaths also come in different sizes. You can choose a small birdbath to fit into a little area of your garden or opt for a larger birdbath to accommodate a bigger space.
Whichever birdbath you choose, adding an outside decor piece to your property will help to give your home a more contemporary look.
A third way to create a modern backyard is to add unique planters to your space.
From small concrete planters to large terra cotta garden containers, there are many ways to spruce up your yard.
You can buy planters individually or purchase planter sets of the same size or different sizes if you want to add these items throughout your yard. Garden containers can have plants in them or vibrant colored flowers. The choice is yours! And you can switch up the plants and flowers in your planters depending on the season.
The style choices are also wide and varied with garden planters. From pedestal flower urns to low bowl planters, you have tons of options with regard to this home decor item. You can spruce up your dining areas or place them on coffee tables. Here are some of the common planter types:
Planter sets

Cast stone

Fiber cement

Lightweight

Ceramic

Square

Wood look planters

Modern

People planters

Urn

Pedestal style

Bowl garden containers for ground level

Terrace/tabletop planters

Window box containers

Modular style

Glass fiber reinforced concrete
When you start the search for a new planter for your property, keep the following in mind:

If you live in an area with colder winter months, make sure the planters you buy are weather resistant. You want to choose frost-resistant planters that will handle the colder elements well. You should also pick a planter that weathers naturally, so the finish of the pot gradually shows wear and it looks natural.

Garden pots come in various color finishes. You can choose a cement color or natural color planter or you can pick a color tone that goes well with your home's exterior. Some garden pots will only come in a basic natural color tone while others are available in a variety of finishes.

As you check out different planter options, have a general idea as to where you'll put your new garden pot. You want your chosen planter to fit in your ideal space so it's good to know where your new decor piece will go so you're sure it will fit. You can put the planter on the ground or add it to your outdoor dining table. If you pick a smaller planter you can put it on a small coffee table or add it to a small backyard.

When you shop for a new garden planter, think about the style you want to go with. Do you want your planters to match your current exterior decor? Or do you want to make things more contemporary and choose a style that's a bit different from your current setup?
Planters often come in unique geometric shapes which is extra modern for your landscaping. You can consult with a landscaping designer to see which style will look best in your outdoor spaces. Whichever option you choose, rest assured you'll have plenty of choices as garden pots come in a wide array of styles.
Planters can be expensive. However, you can shop on a budget and still find the right modern planter for your home. It's a good idea to have a set budget in mind before you start shopping as it will make it easier to stay within your price range along the way. Budget friendly planters are available!
When you keep these factors in mind, you can pick the right garden planter for your home. You might want to start with one or two garden planters. Or you can buy planter sets and modernize your entire outdoor space with ease.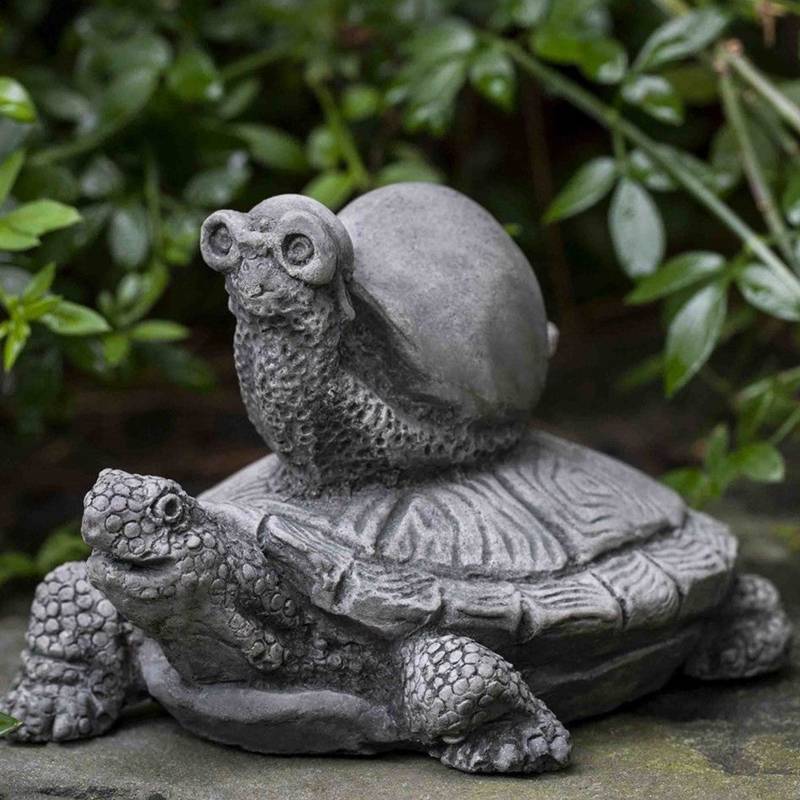 Another way to add a contemporary vibe to your backyard is to add a statuary. Statuaries, or statues, come in many different varieties and themes. From animal statues to people statuaries, there are many landscape pieces you can add to your space.
Here are some common statuaries that will dress up your yard:
Animal statuaries

People statues

Modern statues

Mythical theme

Buddha statues

Religious theme decor

Brass statues

Cats

Dogs

Farm theme

Forest animals

Frogs

Horses

Insects

Lions

Reptiles

Water animals
Before you pick a particular statue to buy, think of the following concepts:

In anticipation of adding a new statue to your yard, think of where you'll put the figure in your backyard. You can add the statue to your backyard gardens or even place it right next to your pool patio for the perfect outdoor decor piece. When you think of where you'll put your statuary before you buy it, you can zone in on the right size, style, and theme of statue.

The size of the statue is important as you want to make sure your new decor item fits in your desired space. Statuaries come in a variety of sizes, so you can pick a small item or larger statue, depending on what you're looking for in a product. You may just want a small statue to be the focal point of your backyard and fit nicely in the intended space.

Statuaries have many different material constructions. Here are some of the popular materials manufacturers use to make their statues:

Each material type will require specific care. So, whichever statue you choose, make sure you know how to properly care for it with the type of material in mind.
Modern statue themes are readily available. From animal statues to people statues, you can find the type of theme you're looking for in a backyard statuary. You might want to go with a current theme you have in your space or choose a different theme to brighten up your yard. Your best bet is to peruse the available themes and see which ones stand out most to you!

Cost is often a deciding factor with certain purchases. A statuary is well worth the investment to give your backyard a contemporary vibe. However, there may be a set budget you want to stay within when buying a new yard statue.
The good news is that you can find statues within various price ranges. Smaller statues often cost less than larger statues, but other factors include material, intricate details, and manufacturer pricing. If you want to spend a specific amount of money on statues, check out the available options within the price range you're looking for and explore the statue choices.
Embrace a modern backyard by adding a new statue to your property!
Outdoor artwork will also give your landscape a modern feel. You might think that outdoor art only comes in statues and other large freestanding pieces, but not so! You can buy outdoor canvas art and give your space a modern vibe.
Here are some of the themes of outdoor canvas art you'll find in your search for the perfect piece:
Birds
Farm scenes
Forest scenes
Beach views
Floral designs
Encouraging statements
You can hang the outdoor canvas art on your backyard patio under cover or anywhere you have the right wall space.
Outdoor art comes in various sizes and at different price points so you can pick the one that fits your needs and your budget all at the same time.
When you choose your outdoor canvas art you can keep it in line with your outdoor furniture and keep the colors similar. Or you can choose a vibrant canvas print where the colors pop and give your space a modern look.
Here are some considerations when picking out the perfect piece of outdoor canvas artwork:
Look at your outdoor setup and see which theme you want to go with for your outdoor art. Maybe you have a bird theme already in place and want to spruce up your exterior with beautiful bird artwork. Or perhaps your backyard gardens could use an additional floral theme and this is where a canvas artwork piece featuring flowers comes in handy.
If you want to switch things up, use a few different themes in your backyard area to bring out a modern touch.
Before you buy an outdoor art canvas, consider the space you have to work with in your backyard. You may just want a small contemporary art print to brighten up the space or you may need something bigger. The good news is that you'll find plenty of modern art choices in your search.

Consider the current color scheme of your backyard seating area. Choose a modern art piece that goes well with your outdoor furniture or outdoor dining area when it comes to color tones.

Outdoor art will vary in price. You may be working within a budget as you attempt to modernize your yard area. If so, look for outdoor artwork that fits within your budget and also fulfills your other requirements such as size, theme, and color.
With the right artwork piece added to your back porch or courtyard area, you can bring a modern feel to the space with ease.
Another way to spruce up your space with modern items is to add a bench to your backyard or patio area. Benches provide an eye-catching yard decor option as well as offer a place for your family and friends to sit.
When you start the search for an outdoor bench, here are some materials you'll find these seats made out of:
Concrete

Cast stone

Wood

Plastic

Metal

Wicker
When you choose your modern bench, you want to be mindful of the material. Certain materials will last longer and withstand the outdoor elements better than some others will. If you want a bench that lasts a long time, a concrete or cast stone bench is often ideal.
As you shop around for the perfect contemporary bench, keep the following factors in mind:
If you strive for a modern backyard, add a contemporary style bench. You'll find plenty of bench styles in your search for the right one. Here are some styles you may come across in your shopping venture:

Ornate designs

Flower themes

Animal themes

Curved designs
Some benches will be concrete or neutral color while others will have color finishes to choose from with each one.

Benches come in different sizes, too. You can find a small bench to fit in your backyard garden and give the space a modern feel. Or you can opt for a larger bench to fill in some open space. No matter what size bench you need, you'll find the right outdoor furniture piece to place in your backyard.

As mentioned above, benches come in various materials. Before you buy a certain bench, think of where you'll place it and make sure the weather elements won't be too harsh on the bench on a daily basis. Depending on the type of bench you choose, you can add pillows to the seating. Choose pillows with bright colors to add to this new furniture and make it modern.

If you're working with a budget in mind, know that you can find affordable benches to add a contemporary setting to your landscape. When you shop for a new outdoor bench, have an idea as to how much you're able to spend on a furniture piece such as this one. You can choose an affordable bench for your home and add a modern feel to your outdoor patio or garden setting.
Benches provide an easy way to make your backyard more modern.