Top 25 Bird Statues for your Home or Garden
Top 25 Bird Statues for your Home or Garden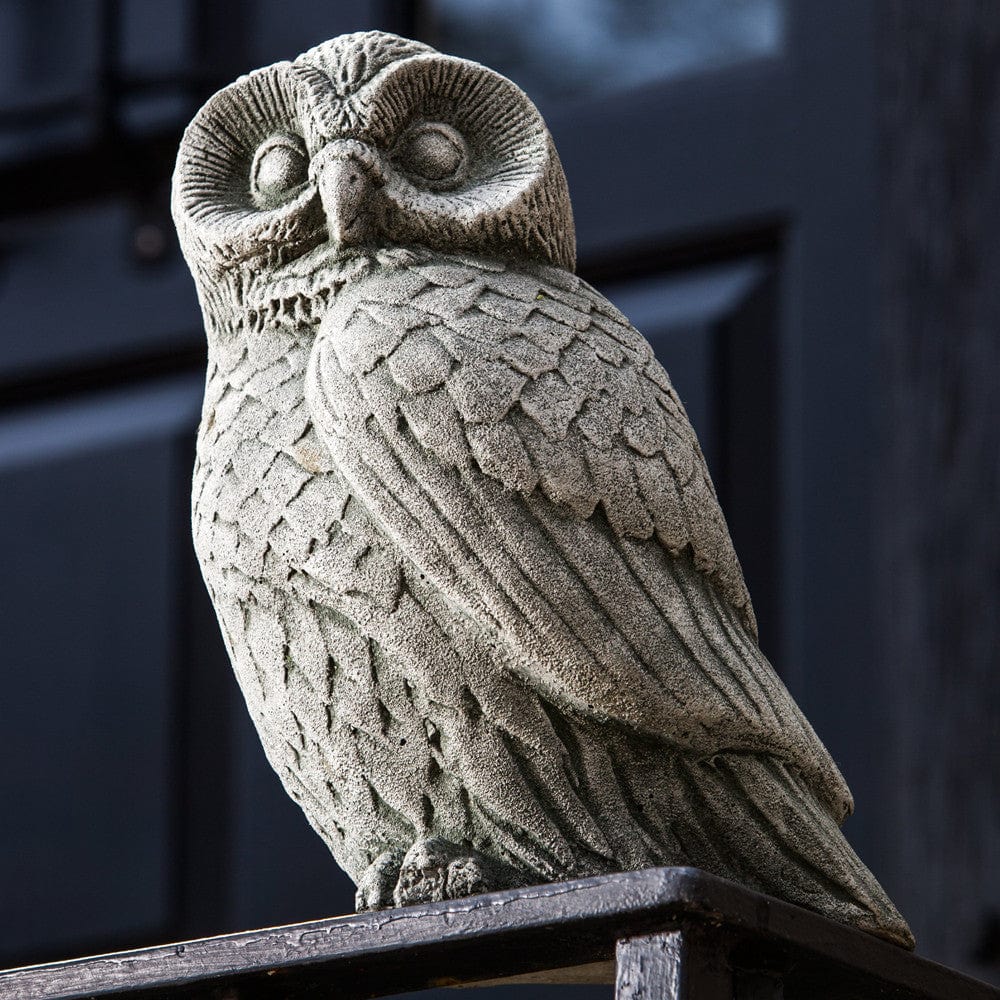 As such a classic and timeless look, adding bird statues to your home or garden will create a certain melody and peace into your life. Here, you don't have to look into the trees or sky to bird-watch. Our pieces are hyper-realistic, and we have a very proud selection that will match any style you're looking for. So, why birds? Not only are they gorgeous and delicate in their own unique way, but bird sculptures can scare pests as well as other animals and birds away from a garden and home. As an added bonus, history suggests they offer protection to a home and bring good fortune and luck. Even more, bird garden statues help bring nature to you in your outdoor space. Let's take a look at these top 25 bird statues made for both enthusiasts and lovers, as well as everyone in between.
A heron has a pointed bill, a long S-shaped neck, and has very long legs. They are often seen in the wetlands around the world and there are many different colors they can possess - note the famous blue heron. This cast stone heron statue is eye-catching and beautifully carved. It has been created by trained artisans using superior materials. To showcase your unique style, this Heron Statue is available in multiple finishes.
This is the best way to showcase a small piece of your own beautiful nature in a planter. This cast stone Newport Swan is an incredible ornament for your garden and looks great virtually anywhere. This beautiful focal point serves as the perfect addition to your home and you can plant anything inside of it for any season of the year. Remember that in winter, if you decide to keep using your Newport Swan Garden Planter, you should keep the planter raised so the water can drain. This will prevent root-rot as well as prevent the planter from freezing to the ground. The Newport Swan Garden Planter weighs 65lbs and has dimensions of 24.5" L x 11.25" W x 17.5" H. 
The Quackers Cast Stone Garden Statue is bound to make heads turn, simply by how realistic they look! This is a playful sculpture created for those who want to keep nature close to their hearts and homes. The Quacker is a friendly and healthy young goose that comes in your choice of classic or distinct finishes along with many unique features that make it one-of-a-kind. The Quackers weigh only 13 lbs. and have dimensions of 6" L x 12.5" W x 11.5" H. 
Our Merrie Little Owl Cast Stone Garden Statue stands at 9.25" in height and was made to completely charm anyone who sees him. This adorable little guy is perfect for all owl lovers and those who want to add some nighttime mystery to an area. Merrie Little Owl weighs only 14 lbs. and has dimensions of 7.25" L x 6.25" W x 9.25" H.
Birds on a Log is simply adorable - picture a winter evening with light snowfall and these plump little birds nestled up on a log, huddling up together to stay cozy. Comforting and warm, Birds on a Log brings a sense of quietness and peace to any area outside of your home. These sweet birds weigh a total of 31 lbs. and have dimensions of 17.5" L x 5.5" W x 7" H. There are many stains and finishes that will help these birds create the perfect accent in your garden. 
Cardinals, named after the Catholic Bishops, are clearly quite famous in the bird kingdom. On top of that, it isn't uncommon to see them regularly in nature, and even in your own bird feeder. But, why not ensure you see one from the comfort of your own home daily? Our Cardinal Cast Stone Garden Statue perched on a stone features a delicate and unique design that is bound to put a smile on anyone's face. This Cardinal Statue is very small, weighing only 2 lbs. with dimensions of 4" L x 3.25" W x 6" H.
The Baby Barn Owl Cast Stone Garden Statue features an adorable baby bird sitting contently. The bird is highly detailed - crafted carefully by skilled artisans. This baby bird will look great in your yard or garden, and even right by your front door to greet guests. Baby Barn Owl weighs only 2 lbs. and has dimensions of 4"L x 4.25"W x 5.75"H.
Egrets are a type of heron that have tons of white fluff and develop very fine plumes during mating season - as shown perfectly in this sculpture. This is a stunning sculpture of an Egret resting peacefully on its long legs and will make a beautiful focal point in your garden. The Egret Garden Statue weighs 35 lbs. and has dimensions of 11.75" L x 8" W x 19.25" H.
One of the smartest and gorgeous black birds in the bird kingdom, the Raven Cast Stone Garden Statue perches sternly on a post to watch over the home. Ravens can live virtually anywhere, so it only makes sense to add this beloved bird to your outdoor home decor. Ravens are actually pretty big, and the Raven Statue meets size expectations pretty well. It weighs 34 lbs. and has dimensions of 13" L x 6" W x 19.5" H.
Kate's Goose Cast Stone Garden Statue is a very playful design made to charm guests and bring a smile to their faces. With delicate lines and curves, this goose was created to be an adorable and stunning friend as you pass by. Kate's Goose is roughly the same size as a real goose, weighing only 11 lbs. and having dimensions of 6.5" L x 8" W x 13.75" H. Kate's Goose makes for a wonderful accent piece in any area.
When you think of an owl, you probably think of the mysterious and delicate feathered creature known for it's intelligence, and you wouldn't be wrong. The Scholarly Owl Cast Stone Garden Statue is sculpted peacefully in a relaxed pose, holding a book, and adds a serene ambiance to any area. The Owl Statue weighs only 10 lbs. and has 5.25"L x 8"W x 9.5"H dimensions.
Owls are not always small; they can actually be massive and mighty like the Dr. Hoo Statue shown - making it a great guardian for your home! In fact, some of the largest owls have wingspans of up to four feet! The Dr. Hoo Garden Statue perches on a pillar looking very intently at guests. It makes for a perfect garden or patio ornament and is highly durable. Dr. Hoo weighs a whopping 145 lbs. and his dimensions are 12.25" L x 12" W x 27" H.
A historic sign of freedom, patriotism, and all-around boldness stands the Bass Baron Eagle Outdoor Statue. Put the majestic view of an eagle with its wings spread wide in the sky in your garden to make it shine. This well crafted statue is sure to bring a feeling of patriotism to your home. The Brass Baron Eagle stands 10" tall and will make your garden look like a piece of artwork.
A pelican, found mainly around beaches and wetlands, will naturally look amazing next to your pond or pool. Pelicans are large birds known to swallow whole fish and dive into the ocean during their hunt. The Pelican Cast Stone Garden Statue is perched on a stone with dimensions of 12.5" L x 22" W x 28" H and weighs 136 lbs.
The Corvus, most commonly known as the crow, is stunning in pitch black and the statue replicates a chatty crow in every small detail. Crafted with care and to perfection, the Corvus Cast Stone Garden Statue weighs 30 lbs. and his dimensions are 13.5" L x 6" W x 14.5" H. This crow stays true to its natural size and can even help scare off other birds and small animals from your garden! 
A pair of cranes makes the perfect addition in your garden or even alongside a pool or by your fountain or pond. The brass Baron Small Crane Pair is the smallest in their group, but they are still relatively large in size - both standing at 24" height and 20" height. Cranes are extravagant and create a peaceful look, lounging in the water with pure elegance. 
If you are absolutely in love with the Autumn season, this is by far the perfect fit for you. Birds on a Pumpkin Cast Stone Garden Statue is the perfect feature for Autumn and will still look great during any other season. This statue weighs 47 lbs. and has dimensions of 10.25" L x 10.25" W x 13.25" H. The rustic charm of these two birds perched on a pumpkin creates a cozy ambiance that will make any area a bit warmer. 
This tiny bird garden statue adds a perfect touch to serene areas both large and small. It can be placed on an outdoor fountain like shown in the picture, placed poolside, put next to a pond, it can really go anywhere since it's so small! Our 'Flutter' Cast Stone Garden Statue is adorable and small, weighing only 3 lbs. with dimensions of 8" L x 4.5" W x 4.5" H.
Nevermore, Nevermore. Edgar Allen Poe lovers - this one is made for you. The aesthetic of the Nevermore Cast Stone Garden Statue is ominous yet stunning, featuring two ravens perched on posts and watching over your garden each in opposite directions. Dark and mysterious, what's not to love? Nevermore weighs 67 lbs. with dimensions of 17.5" L x 12.25" W x 20.5" H.
The list would not be complete without the beloved hummingbird. This statue is very detailed, showing a tiny hummingbird pulling pollen out of a batch of flowers. It's a unique that comes in many styles of finishes, weighing only 4 lbs. with dimensions of 6.35" L x 4.75" W x 3.75" H.
Ah, the morning chatter of a group of birds hopping from one tree branch to the next. It is a classic morning sound that brings us close to nature and wakes us up in the morning. The Morning Gossip Garden Planter features three birds looking at each other on the tree branches as if they really are gossiping. Add some flowers to the planter to create a stunning accent in your garden. Morning Gossip weighs 69 lbs. and has dimensions of 12" L x 17" W x 31" H.
Night Owl Cast Stone Garden Statue is somewhat small, yet still jam-packed with incredible details. He is perched and standing tall and mighty, made to direct attention. Night owl weighs 23 lbs. and has dimensions of 8" L x 7" W x 12" H.
The Northern Cardinal, again, is such a popular and beautiful bird cherished by many. This cast stone statue is intricately designed - every feature resembling the bird perfectly. At only 3 lbs. with dimensions of 5" L x 4.5" W x 7" H, Northern Cardinal is a perfect accent feature. 
Soaring Owl, one of the largest statues on the list, was made to impress. Look no further if you are trying to make a large statement. Soaring Owl has its large wings spread wide, showcasing every detailed feather. He weighs a whopping 164 lbs. and has dimensions of 27" L x 12.5" W x 24" H. 
It's happy hour and these five adorable birds are ready for their daily drinks and food! All resting on a long post, these five birds are shown getting comfortable in incredible detail - one even pruning and taking a lounge break. Happy Hour Cast Stone Garden statue weighs only 20 lbs. and has dimensions of 21" L x 6" W x 5.5" H.
E
mbracing the beauty and symbolism of bird statues 
With their exquisite designs and artistic expressions, these avian-inspired sculptures offer a delightful blend of nature's grace and human creativity. From majestic eagles symbolizing strength and freedom to serene doves representing peace and harmony, the Top 25 Bird Statues showcased in this article cater to diverse tastes and preferences. Whether you're an avid bird enthusiast or simply seeking to add a touch of elegance to your surroundings, these bird garden statues serve as timeless reminders of the boundless wonder found in the avian world. So, let your imagination soar and bring these enchanting creatures to life, infusing your space with an enchanting charm that is sure to captivate all who behold them.
Now that you know what bird statue you want, look to find a variety of statues in order to continue to beautify your outdoor space. To find out how to care for your statues and keep them looking good year-round check out our WINTER CARE- CAST STONE PLANTERS AND STATUARY.