Bring Nature to You with Forest Animal Statues
Bring Nature to You with Forest Animal Statues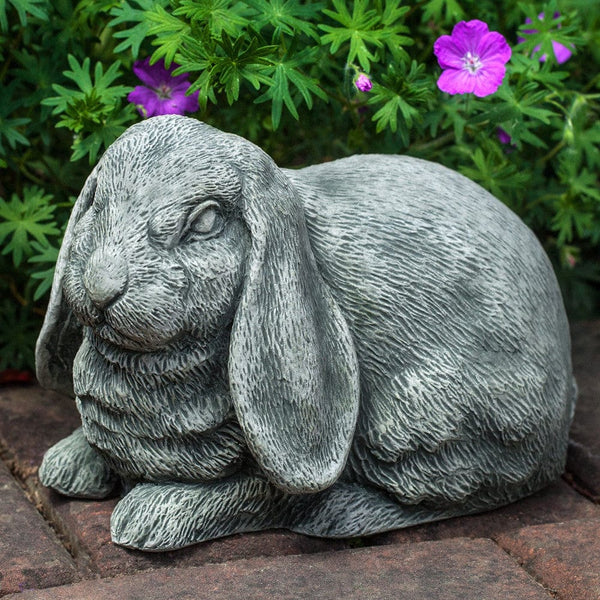 Building your own garden, like decorating your home is the best way to express your own unique personality. Bringing in colours, artwork, furniture and tapestries that showcase your interests and tastes makes you feel truly comfortable in your home, and this extends to your outdoor space as well. The great thing about your yard is that the design and theme possibilities are endless, and nature already helps you out with all of the gorgeous colours and textures it provides. Rather than painting a room red, you can grow a beautiful rose bush to get that splash of colour you're looking for, and if you have a love for animals of all shapes and sizes, but some aren't necessarily suitable as house pets then these animal statues will fit right into your lively garden or backyard retreat.
Noble Fox Cast Stone Garden Statue
This adorable fox will watch over your flowerbeds through rain or shine. The high-quality materials used to create the intricately detailed fox are suitable for year round use! Specially trained artisans take the time and care to ensure every detail of the statue stands out and is true to the look of a real fox, and the 12 different options for finishes and stains are hand applied by the artisans so you know you're getting a quality product that is perfectly customized to your tastes. At 21" long and 17.75" high, he will sit in your lawn or garden looking playful and protective.
Butterfly Cast Stone Garden Statue
Butterflies never cease to make people smile when they see them fluttering through the air. Their beauty makes you want to get as close as you can to gaze at these tiny creatures but their fragility makes them vulnerable and they never seem to stick around long enough for you to take in all of their stunning features. This butterfly cast stone garden statue has all the beautiful details of a real butterfly but won't flitter off if you get too close! Sprinkle some of these throughout your garden to enjoy the view of little butterflies through every season! They are available in many different stains and finishes so you can add as much colour to your garden as you'd like, and with their small size of 6"x4.5" you'll want to place several of them wherever eyes might see.
Autumn Chipmunk Cast Stone Garden Statue
Chipmunks are another tiny woodland creature that scurries about so quickly that it's difficult to get a good glimpse, and they're so cute that you would probably have one as a pet if you could! Alas, they belong in nature, but there's no reason you can't adoringly gaze at a wonderfully detailed imitation throughout every season. The Autumn Chipmunk sits at less than 6" tall so he can be perfectly placed in any size of outdoor space whether it be a patio, deck or terrace. You can see him perching on a rock stocking up for winter right outside your window, and you can choose from an assortment of colours so he always stands out despite his smaller stature. The artisan applied stains and superior craftsmanship will keep this little guy happily gathering for seasons to come.
All Creatures Great and Small Cast Stone Garden Statue
If you like your animal garden statues to come as unique as you are then this 11" praying frog may be just what you're looking for. Peacefully seated on his knees with his hands folded in front of him it makes you wonder what this amphibian is praying for; the discovery of a lush wetland to prosper in? A swarm of flies to come his way, making for a tasty meal? Maybe just a friend to keep him company? While he sits there pondering you can enjoy the liveliness he brings to your garden, and have you pondering the things your heart desires most as well. This frog decoration is sure to help accentuate the feeling of nature in your outdoor space.
Lop-Eared Bunny Cast Stone Garden Statue
So furry creatures are more your thing. Well, have no fear, because the Lop-Eared Bunny is here. Expertly trained artisans have ensured that this little guy is detailed down to the very last hair on his cute bunny tail. The Lop-Eared Bunny runs 9.75" long, 5.75" wide and is just 6" high so you can place him among some flowers, under a tree, or snugly between the branches of a bush and he will sit comfortably observing the comings and goings of other little critters. Made in the USA and available in your choice of stain or finish, you will have your very own personalized Peter rabbit to keep your flower beds company in no time, and the high-quality cast stone material will keep him around for a long time. Just make sure to take care of this little guy by reading our winter care on cast stone statuary.
Baby Barn Owl Cast Stone Garden Statue
There is something about baby animals that just melts your heart immediately and the Baby Barn Owl statue is no exception. Expertly detailed and crafted from the finest materials, adding this little 6" statue to your backyard space will definitely signify your love for these majestic birds and the colour selection available will allow you to express your unique tastes and match this tiny owl with your existing outdoor décor. At 5.75" tall and weighing a measly 2 pounds you can move him whenever and wherever depending on your mood and this little guy deserves to be showcased! Perch him on a podium or sit him atop a deck railing for you and your guests' viewing pleasure, this cute little bird statue is sure to help bring a natural environment.
No matter your style, animals are a wonderful addition to any nature setting and make backyards and gardens come to life. All of these critter options are completely customizable to your specific colour theme and are small enough to fit in even the smallest of backyard spaces! Spruce and liven up your outdoor sanctuary with butterflies, owls, frogs or foxes and feel the relaxation that comes with being surrounded by nature.