Choosing the Right Outdoor Fireplace
Choosing the Right Outdoor Fireplace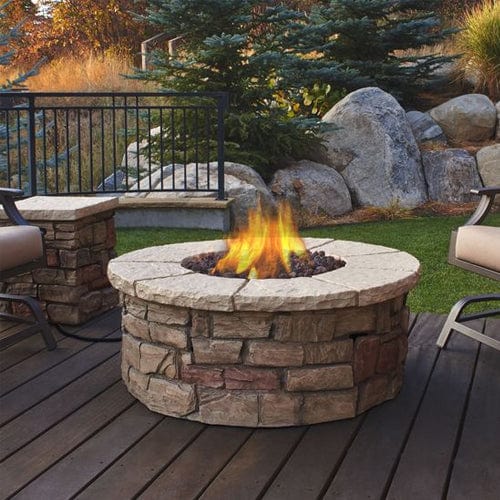 Few things in life are as enjoyable as a warm fire under a starry sky. Bringing this into your backyard isn't something that has to be a big challenge, but here is much to consider when looking for an outdoor fireplace. Yes, aesthetic is a big part, but the most important, I would argue, is the fuel type. Do you want something that burns clean but may cost more? Are you looking for something natural and classic? Here are some things to keep in mind when you're ready to light things up for yourself.
Ethanol Fireplace
More and more vehicles are starting to use ethanol, which is a great thing for the environment. The same can be said for having an ethanol fireplace in your home. There are some great benefits to using ethanol. Unlike some of the more traditional fuels, ethanol only produces heat, carbon dioxide and steam. This means you won't be dealing with smoke, which is a complaint I often have with something like a wood-burning fire pit. And, since you're not dealing with wood, you also won't be dealing with ashes or having to find a place to store all that extra fuel until it's ready to be burned. Some of the best parts of the wood-burning experience, however, are lost in the switch to an ethanol-based heat source. Ethanol fireplaces don't make some of the satisfying sounds you get from wood. No more crackles and pops on a still night. I suppose this could serve as a positive to some, but not for me. Also, you're not going to feel as much heat from an ethanol fireplace. More traditional fuels put out significantly more heat, so you can consider an ethanol fireplace to be a little more about form over function. If ethanol sounds right for you, here's a modern fireplace you can use to class up your deck.
Wood Burning Fire Pits and Chimineas
Old faithful. There's a lot to love about wood. A wood-burning fireplace is classic. There's something warm and inviting about the scent of burning wood. There are an incredible amount of varieties with their own scents and smokes. It gives off great heat to keep comfortable on a cool night. Not to mention it's completely natural and is the cheapest of all your fuel options. Wood, though, does have its downsides. In many situations it needs to be handled and chopped to size. Storage of the unused fuel can be a space issue. It leaves quite a bit of cleanup when it's done. And, without a good fireplace, you'll find yourself dealing with more smoke than you may like. I've also found getting a wood-burning situation started to be a little more time consuming than other options, but some people would consider that part of the fun. Even with all that, though, the nostalgia of sitting beside a wood-burning fire cannot be denied. The crackles and pops of the wood as the flames eat through it are transcendent, taking anybody in its presence to a place where ranch hands gather around after a hard day of work before heading in for the night. Wood and fire is as basic and beautiful experience as one can get, so long as you're okay with handling its downsides. For an epic wood experience, give this rustic chiminea a look.
Propane Fireplace
Hank Hill's favorite fuel isn't just for cooking. Propane has been a standard in homes for nearly a century, powering furnaces, stoves, ovens, and, yes, fireplaces. Setting up an outdoor propane fireplace isn't especially difficult, depending on the model, but is it something that will work for you? Unlike wood, getting your propane fire started is wildly simple, typically done by flipping a switch. When you're done, you flip it right back and it's all over. There's no cleanup or any sort of fuss needed. Propane is also a good source of heat. Unlike ethanol, propane will have no issue keeping you warm without requiring you to be right up against the flames. One of the biggest downsides to propane is, in fact, its origin. Wood and ethanol are derived from renewable resources, wood being from trees (obviously) and ethanol being a biofuel created from plants. Propane, on the other hand, is a fossil fuel, made as a byproduct natural gas processing and petroleum refining. As such, it's not particularly good for the environment, and it will cost you a bit more than other fuel types. If you're willing to give propane a chance, this elegant fire table might be just what you need.
Natural Gas Fireplace
Natural gas fireplace has one major thing going for it: No fuss, no muss. If you've got a natural gas line available going into your home and you can have it run to a fireplace in your backyard, you've got it made. There is no storage of fuel, either in tanks or piles. You won't need to clean anything up when you're doing using it. It even gives off a fair amount of heat for those chilly nights. It's also cheaper than propane and more convenient than the other fuel types. There are some issues, however, when dealing with natural gas. It does need to be pumped into your house. If you don't have a natural gas line coming onto your property, you will need to have one installed. Also, like propane, natural gas is a fossil fuel, propane, in fact, being one of the byproducts of processing it. Additionally, burning natural gas is not good for the environment. It releases all kinds of greenhouse gasses which have been linked to global climate change. The ease of it, however, cannot be denied. The idea of walking onto your back patio, flipping a switch and enjoying a lovely evening by a sleek fireplace is incredibly tempting. Sound like your dream situation? Check out this beauty.
How to build an outdoor fireplace?
Building an outdoor fireplace can be a great way to enhance your outdoor living space and create a cozy atmosphere for gatherings with family and friends. First, determine the location and size of your fireplace, then choose the materials you want to use. Follow the instructions carefully, and make sure to use appropriate safety measures during the construction process. Once the fireplace is built, you can add finishing touches such as seating and lighting to create a comfortable outdoor living area. With a little planning and effort, you can enjoy the warmth and ambiance of an outdoor fireplace for years to come.
Wrapping Up
Outdoor fireplaces are a great addition to any outdoor living space and can provide warmth, ambiance, and a place to gather with family and friends. There are many outdoor fireplace ideas to choose from, including rustic stone fireplaces, modern concrete fireplaces, and even portable fire pits. You can also add seating, lighting, and other decorative elements to create a comfortable and inviting outdoor area. Whether you prefer a traditional or contemporary look, there are endless options to suit your style and needs. With a little creativity and planning, you can create a beautiful outdoor fireplace that will enhance your outdoor living space and provide years of enjoyment.
As with everything, there is an upside and a downside to whichever fuel you may choose for your outdoor fireplace. You're going to find what is likely your most rewarding experience with a great wood-burning fireplace, particularly one that can keep the smoke out of your eyes. If you're looking for simplicity, perhaps one of the gas options might work for you. Ethanol is great if you're looking for pure aesthetics, since it is the least warm of the bunch. It all comes down to what you're willing to do to get exactly what you want. Best of luck. Once you do decide which fireplace to get check our post on ways to design around an outdoor fireplace.