The Most Popular Outdoor Frog Decorations
The Most Popular Outdoor Frog Decorations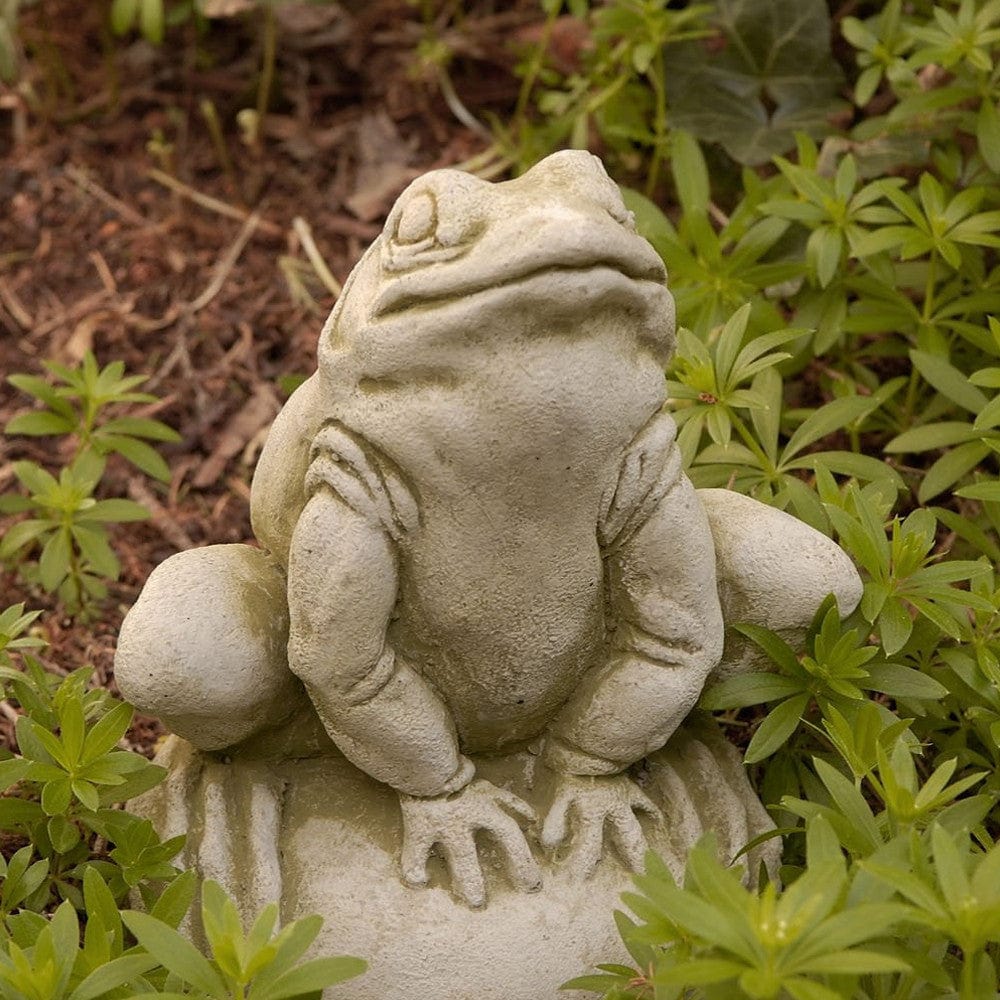 We all love getting the chance to deck out our gardens with things that we love, but also things that we think friends and relatives will like also. Which can often lead to some disagreement and flexibility needing in regard to what and how you kit out your garden.
Something everyone loves is a water feature. There are fewer more soothing noises than hearing the sound of running water trickling through your garden, be that from the pond of an additional water feature like a fountain.
Fountains come in all different shapes and sizes. It's a huge market with plenty of different niches and styles for each person - you will surely find something you like at the local DIY and garden store.
One of the best-loved themes in the market are frogs. The lovely little critters are like a mascot to the back garden. If you have a pond out in your backyard, you will likely have met some of these little guys. Check out some of our favorite frog decorations for outdoors.
A beautifully basic water fountain, this Bali Frog fountain is small but classic looking. The space at the bottom below the frog fountain is a place for plants and shrubbery, and while the water is held there too, this offers the perfect opportunity to feed your plants and leave you doing little, too! The water comes from the frog's mouth, with the decorative number here shown to be sat next to a door in the back garden, but this could also be used anywhere else around the home. The recirculation of water independently means that no plumbing is needed, all you need to be able to do is plug it into a power circulation close to the placement. Designed and manufactured in the USA, this fiber-reinforced stone is available in a whole multitude of colors, meaning that it would suit almost any home, regardless of color scheme.
We love this style of fountain because it's a little different from any others. The frogs on this ornament are towards the bottom, and just look at how cool they look! The three frogs are clearly in a state of zen - hence why this fountain is called Zen 3 - and it's a unique and cool change from other frog decorations for the garden. The fountain above the frogs is also really neat, and while there's nothing too exciting about the rounded bowl, this only adds to how cool the frogs below look. Similar to the fountain above, this piece doesn't need any internal plumbing, it can act independently of a water supply if loaded with water and given additional power. Another benefit of these great fountains is that they are easy to take care of. There's a wide selection of colors available to choose from, yet I would argue the color chosen in this picture is the best for most gardens. If you are looking to bring some zen to your yard this statue is sure to do it for you.
I was really excited about looking at this frog ornament and I'm sure you can see why. This is completely different compared to the two pieces above, but it's also unique is a style to a lot of the other fountains on the market. The rustic look really suits this style, and the colors that you can see within the frog are original while still looking appropriate to the actual color of the animal. The water from this fountain squirts from the mouth onto an open lotus leaf which funnels the water through the brown bowl that the frog sits on. The ultimately vibrant style in which this ornament is would only suit certain people. It's not a classic look but still looks classy in itself. This small and light ornament can be picked up and moved around (it only weighs 7lbs) and could also be used inside the house or greenhouse area. The recirculating pump is included in the fountain and does not need external plumbing.
This is a cute and classy little frog decor statue that will be popular with older generations who are looking for some classic character in their garden statues and ornaments, while still looking homely and smart. These two sweet guys are enjoying the summer sun while sipping their tea, exchanging some thoughts and visions to the things around them. This would fit in fantastically with a perfectly kept garden. I can imagine it sitting below some beautiful hanging pots in and complementing other ornaments across the garden scenery. The awesome craftsmanship and detail on this piece will leave a great mark on your garden. I think you would be able to easily imagine this within your own garden leaving it with a classic look throughout.
The final ornament here is another classic looking piece in a similar vein to the one above. This frog decor, sitting naturally as if taking the beauty of the surroundings would fit naturally in its classic habitat next to a pond or near some plants on a mound of soil. The material of the frog is made to weather naturally in the rain, giving this piece a classic and worn look that looks good outdoors, as opposed to something that rusts or changes color unnaturally over time. Available in a range of colors all complimenting the outdoors perfectly, I think this piece would fit naturally in any frog-lovers back garden. A timeless piece.
How to Choose the Best Frog Decor For You
Frog decor is a fun and whimsical way to add personality and character to any room. From cute and playful to elegant and sophisticated, there are many different styles of frog decor to choose from. But with so many options available, it can be overwhelming to know where to start. Here are some tips to help you choose the best frog decor for your home.
Style 
First, consider the style of your home. If you have a more traditional or formal style, look for frog decor that is elegant and sophisticated. On the other hand, if you have a more playful or eclectic style, you can have fun with brightly colored and whimsical frog decor.
Location
Next, think about the room where you will be placing the frog decor. If it's a child's room, you may want to opt for fun and playful frog decor. If it's a living room or bedroom, you may want to choose more subtle and elegant frog decor.
Material
Finally, consider the material of the frog decor. Ceramic or glass frogs can add a touch of elegance, while plush or stuffed frogs can be fun and playful. Whatever your style, there is a perfect frog decor out there for you.
Elevate Your Yard with Frog Decorations 
Frog decorations for outdoors are a popular choice among garden enthusiasts and nature lovers. These adorable creatures are known for their unique appearance and playful nature, making them a perfect addition to any garden or outdoor space. The beauty of frog decor lies in their ability to bring a touch of whimsy and charm to your garden, while also serving a practical purpose.
If you're indeed someone who loves frogs and the amphibious side of the animal kingdom, you'll be left delighted with some of the cooler options we've had above. With all these great options you're sure to bring some nature into your yard. Whether it is a fountain you're looking for or merely a small statue to reflect your love for frogs, there's something above for almost any palate. Why not introduce these frog decorations to your own environment soon and begin your collection in style? Whether it's next to a flowerbed or on the side of your pond, there's always somewhere to stick these little green fellows. Add a little character to your beautiful back garden.